Mona wins two German Innovation Award 2021
The German Design Council awarded Mona with two prestigious German Innovation Awards
Mona; the first smart bedside device for intensive care units has been awarded with the German Innovation Award 2021 Gold in Design Thinking, and the German Innovation Award 2021 in category Excellence in Business to Business Medical Technologies. Out of 680 other innovative products in 2021, Mona won the two prestigious awards, signifying outstanding achievement and groundbreaking innovations. Mona's innovative design combines state-of the art technology and artificial intelligence supports doctors and nurses with treatment directly at the patient's bed.
The device facilitates voice-controlled documentation, identifies relevant data, and thus contributes to the faster and better treatment of the critically ill. Mona is also used internationally to generate telemedicine networks quickly and securely and thus to provide nationwide expertise in the field of intensive care medicine.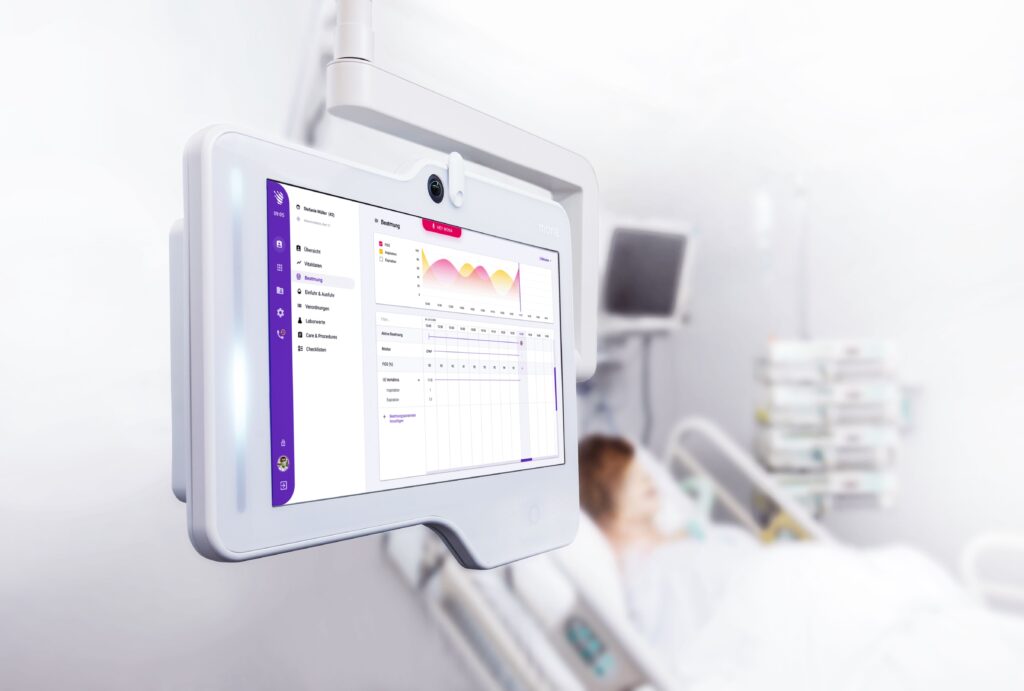 Check out the digital Award ceremony where CEO and Co Founders; Dr. Lukas Martin and Dr. Arne Peine accepted the Awards.
About German Innovation Award
The German Innovation Awards honour products and solutions across sectors, which differ from previous solutions mainly by being user-centric and offering added value. The jury is made up of independent, interdisciplinary experts from industry, science, institutions and finance. The entries are evaluated based on the criteria: level of innovation, user benefits and efficiency. The innovation strategy should take into account aspects such as social, ecological and economical sustainability and the use of energy and resources. Factors such as location, employment potential, longevity, marketability, technical quality and function, materiality and synergy effects play a decisive role in the adjudication process.
About German Design Council
The German innovation award is organized by the German Design Council. It has been operating since 1953 as one of the world's leading centres of expertise in communication and knowledge transfer within design, branding and innovation. It is part of the worldwide design community and has always contributed to the establishment of global exchange and networking thanks to its international offering, promotion of new talent and memberships. With events, conventions, awards, jury meetings and expert committees, the Council connects its members and numerous other international design and branding experts, fosters discourse and provides important stimulation for the global economy. More than 340 businesses currently count among its members.
Here is the link to the Online gallery of German Innovation Award 2021 featuring Mona : (Available in German and English)
https://www.german-innovation-award.de/preistraeger/preis/gewinner/mona/
https://www.german-innovation-award.de/preistraeger/preis/gewinner/mona-1/